I have in front of me three half dollar coins, legal tender United States currency. They have varying degrees of wear, and they have different dates and mint marks. Beyond that, they look very much the same.
On the face of each coin is a profile bust of President John F. Kennedy surrounded by the word LIBERTY.  The motto IN GOD WE TRUST is underneath in a single line and the mint date is below it.  Two of the three coins happen to have a tiny mint identification mark just above the date.
On the reverse is a version of the Presidential Seal – an eagle bearing a shield and holding in one claw an olive branch and in the other claw a bundle of arrows.  It is surrounded by a circle of fifty stars.  Around the perimeter of the reverse are the words UNITED STATES OF AMERICA and HALF DOLLAR.
Other than some minor wear and different dates on the coins, they appear identical.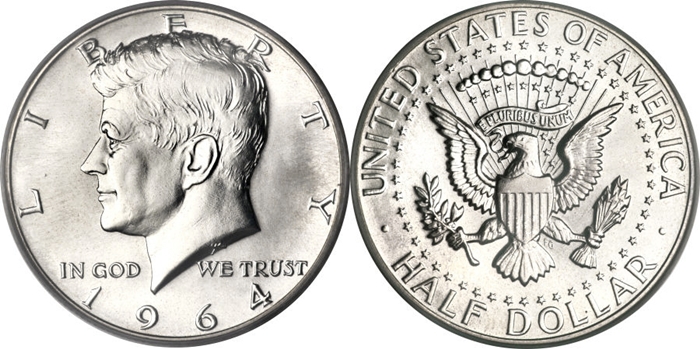 Looks Can Be Deceiving
One of these coins is dated 1964.  Minting began not long after President Kennedy was assassinated.  This coin is comprised of 90% silver and 10% copper, the same alloy used in all silver coins in the United States in 1964.  Sometimes they are called "junk silver" because they are relatively plentiful and have no numismatic collector value.  Based on silver prices at the time I write this, the melt value of this coin is around $8.75.
One of the coins is dated 1969 and is the least worn and best looking of the three.  Beginning in 1965, the make-up of US coins was changed, though a special alloy was used for the Kennedy half dollar from 1965 to 1970.  This coin is made of 40% silver and 60% copper.  Based on silver prices at the time I write this, the melt value of a 1969 Kennedy half dollar is around three and a half dollars.
The third coin is dated 1971, the newest of the bunch.  The last year for the special alloy for half-dollar coins was 1970.  Beginning in 1971 the Kennedy half dollar, like all other circulated US "silver" coins, was made from about 92% copper and 8% nickel.  This "silver" coin contains no silver at all, and has a melt value of less than ten cents.
But the LORD said to Samuel, "Do not look on his appearance or on the height of his stature, because I have rejected him. For the LORD sees not as man sees: man looks on the outward appearance, but the LORD looks on the heart" (1 Samuel 16:7).
In some ways people are like these coins.  We may appear to be the same, or perhaps just as these coins exhibit different levels of wear, we may appear to be either better or worse than others in some aspect.  And though we may not always be able to tell the difference, God knows what is inside.  We may show some kind of "good" that conceals the imperfections within, but God sees through the facade.  God knows the heart.
How Pure Is Pure?
But who can endure the day of his coming, and who can stand when he appears? For he is like a refiner's fire and like fullers' soap.  He will sit as a refiner and purifier of silver (Malachi 3:2-3).
Sterling silver used in jewelry and fine flatware is 92.5% by weight pure silver and 7.5% by weight some other material, usually copper.  Pure silver is a softer material, and the alloy made with copper increases its hardness.  But the alloy material also makes the silver more prone to tarnishing.  Sterling silver is hard and easily tarnished because it is impure.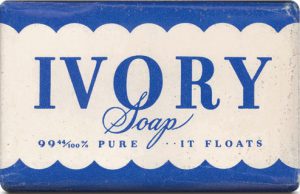 Proctor & Gamble trademarked the name "Ivory" for its new soap product in 1874.  According to P&G's web site, the founder's son, Harley Procter, was distracted in church one Sunday trying to come up with a name for his new soap.  When he heard someone reading Psalm 45:8, he knew what to call it. All thy garments smell of myrrh, and aloes, and cassia, out of the ivory palaces whereby they have made thee glad.  Do you remember the tag line for Ivory soap?  P&G claimed Ivory soap was "ninety-nine and forty-four one hundredths percent pure."  Ivory is so pure that "It Floats," another of its tag lines.
But being 99.44% pure means that something amounting to 0.56% must be impure.
Back to Coins
U.S. Silver Dollars, such as the Morgan and Peace Dollar, used to be common circulated currency.  These junk silver dollar coins with 90% silver were minted through 1935.  The Eisenhower dollar, minted and circulated in the 1970's, like other "silver" coins contained only copper and nickel but no silver (except for limited collector coins made of 40% silver).  The smaller Susan B. Anthony dollars likewise contain only copper and nickel, but no silver. Other dollar coins minted after 2000 don't even appear silver in color and contain less than five cents worth of metal.
However, the American Silver Eagle is a different story.  This coin has a face value of one dollar, but is actually silver bullion.  The one troy ounce coin, marked as "FINE SILVER," is 99.9% pure silver.  The remaining 0.1% is copper.  These coins are popular with investors, and even qualify with the IRS to be used in IRAs in the United States.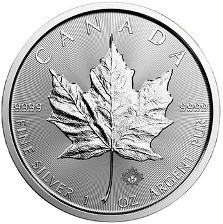 The Canadian Silver Maple Leaf, issued by the Royal Canadian Mint, is one of the finest silver bullion coins in the world.  Stamped with the numbers "9999," this one troy ounce coin is 99.99% pure silver.  The mint doesn't even specify what makes up the remaining 0.01%.
So what does "99.99% pure" mean?  It means it is 0.01% impure.  Anything less than 100% is really not pure.
Holy
Our God is holy – but not just holy.  Not even just holy holy.  The prophet Isaiah describes a vision in which he saw winged creatures known as Seraphim crying out, "Holy, holy, holy is the LORD of hosts" (Isaiah 6:3).  That's an English translation written in a sentence structure we would find familiar.  The Hebrew text, however, does not have any of this punctuation.  It simply has the word for holy, Strong's number H6918 pronounced kadosh, three times in succession:
קדושׁ קדושׁ קדושׁ יהוה צבאות
kadosh kadosh kadosh Yahweh tzava'ot
David Stern's Complete Jewish Bible renders it this way:
"More holy than the holiest holiness is ADONAI-Tzva'ot! The whole earth is filled with his glory!" (Isaiah 6:3, Complete Jewish Bible).
I cannot conceive of that level of holiness.  So how are we to live in the presence of this holy God?  Well, left to ourselves, we can't.  We would die.  Yet in his Sermon on the Mount, Yeshua tells us to be perfect.  If we expect to see (or as Dr. Henry Blackaby puts it, to experience) God, our hearts must be pure.
You therefore must be perfect, as your heavenly Father is perfect (Matthew 5:48).
Blessed are the pure in heart, for they shall see God (Matthew 5:8).
Who shall ascend the hill of the LORD? And who shall stand in his holy place? He who has clean hands and a pure heart, who does not lift up his soul to what is false and does not swear deceitfully. He will receive blessing from the LORD and righteousness from the God of his salvation. Such is the generation of those who seek him, who seek the face of the God of Jacob. Selah (Psalm 24:3-6).
God's refining fire will purify us to make us fit to stand before him, but it first requires us to seek him, to be obedient and to submit to his will.  Only then can we be made clean and pure in his presence.  Not 99.99% pure as the finest silver, but "holy," ransomed by the perfect blood of Messiah Yeshua.
As obedient children, do not be conformed to the passions of your former ignorance, but as he who called you is holy, you also be holy in all your conduct, since it is written, "You shall be holy, for I am holy." And if you call on him as Father who judges impartially according to each one's deeds, conduct yourselves with fear throughout the time of your exile, knowing that you were ransomed from the futile ways inherited from your forefathers, not with perishable things such as silver or gold, but with the precious blood of Christ, like that of a lamb without blemish or spot (1 Peter 1:14-19).
In the whole land, declares the LORD, two thirds shall be cut off and perish, and one third shall be left alive. And I will put this third into the fire, and refine them as one refines silver, and test them as gold is tested. They will call upon my name, and I will answer them. I will say, 'They are my people'; and they will say, 'The LORD is my God' (Zechariah 13:8-9).