Pigs in a Blanket – Peter's Vision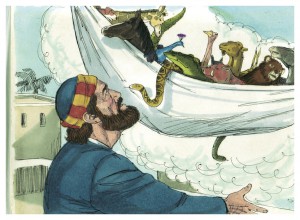 The account of Peter's vision in Acts chapter 10 is often used to show that the food laws given in the Torah are no longer applicable. Here is how most people would relate this story: Peter went up on the roof. While he was praying, he had a vision of a large sheet full of pigs, rabbits, squirrels, catfish, shrimp, lobster and other unclean animals. God told him to kill and eat, but Peter responded that he didn't eat anything unclean. God then told Peter that He had cleansed them, so now it was OK for him to eat whatever he wanted.
Here is how the story really goes: Peter went up on the roof. While he was praying, he had a vision of a large sheet full of all kinds of animals – both clean and unclean. God told him to kill and eat, but Peter responded that he had never eaten anything common (not ritually clean) or unclean (forbidden by God to be eaten). God responded that what He had cleansed, Peter was not to call "common." God did not address what Peter had called "unclean," and never indicated what He had forbidden as unclean could now be eaten.
There is no basis from this vision to conclude that the animals God had previously stated were unclean were now acceptable to be eaten as food. One might conclude from this vision that the ritual rules and regulations of the religious teachers did not determine what was fit to eat. But by Peter's own words, we know that even this was not the intent of the vision.
Peter would never have eaten the pig that was in the large sheet. Neither would God have told him to do so. However, Peter also would never have eaten the cow that was in the sheet with the pig. In his religious view, the cow had to be kept completely separate from the pig to be fit to eat. Because the cow was with the pig, the once holy and clean meat had now become "common," and Peter believed that if he ate it he would be defiled.
To understand any Biblical passage (or any non-biblical instruction for that matter) we need to look at the context. The story begins at the start of Acts chapter 10. A God-fearing Roman soldier by the name of Cornelius had also seen a vision in which an angel instructed him to send for Peter. The problem is Cornelius, being a gentile, was considered by the Jewish people, including Jewish believers in Yeshua (Jesus) like Peter, to be "common." In Peter's religious view, this gentile was second-class and unfit – just like the cow that was hanging out with the pig.
Peter might not have ever gone with the men Cornelius sent to get him, and even if he did, he would not have interacted with him on equal terms. So before the men from Cornelius arrived, God had to get Peter's attention and correct his thinking. Peter confirmed that this was the meaning of the vision when he went to Cornelius and told him "I most certainly understand now that God is not one to show partiality," or as the familiar King James Version puts it, "God is no respecter of persons" (Acts 10:34).
There is an interesting twist, though, in how Peter relates the story to Cornelius and his men. Note that he tells them, "God has shown me that I should not call any man common or unclean" (Acts 10:28). When it came to eating the animals in the sheet, Peter knew which ones were unclean and considered the others to be common. God had already established what was clean and unclean in Leviticus 11 and Deuteronomy 14. However, Peter had no way of knowing who among men was clean or unclean. God had not revealed it, and it was not Peter's place to make that determination.
I have had the opportunity to work with some men that many religious people would consider "second class." A few of them have done some pretty awful things, even taking the life of another person. But God has opened the door for me to go into the Indiana Department of Correction and share my faith, facilitate Bible studies and even hold a Passover Seder (I mean the whole thing!). It is not my place to call any of them "common" or "unclean" for my God does not show partiality.
Do you remember back as a child not touching somebody so you wouldn't get cooties? That was silly, and as adults we chuckle at that idea. Yet, in perhaps a less "silly" way, we do the same thing. Are you looking down on someone, or on some group of people? Is there somebody who, in your eyes, just isn't worthy enough – somebody who, compared to you, is second class?
Yeshua didn't hesitate to minister to those considered the lowlifes and outcasts of his day, even though the religious leaders said, "If this man were a prophet He would know who and what sort of person this woman is who is touching Him, that she is a sinner" (Luke 7:39) . I'm not suggesting that we blend in and become one of the "sinners." But keep in mind, "such were some of you; but you were washed, but you were sanctified, but you were justified in the name of the Lord Yeshua Messiah and in the Spirit of our God" (1 Corinthians 6:11). Our responsibility, like Peter's, is to go wherever God send us or attend to whoever He brings our way.
Oh, for anyone who may have read this looking for justification in eating that pork chop or shrimp cocktail, sorry. This passage won't work. You will have to keep looking elsewhere.