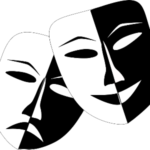 Last year my wife and I went to a local theater for a live performance of "The Cotton Patch Gospel." It's a musical by Tom Key and Russell Treyz with music and lyrics by Harry Chapin, based on the book of the same name by Clarence Jordan1. The Cotton Patch Gospel is a retelling of the story of Jesus, placing all of these events in a modern setting. Here, for example, is the beginning of the second chapter of Matthew:
When Jesus was born in Gainesville, Georgia during the time that Herod was governor, some scholars from the Orient came to Atlanta and inquired, "Where is the one who was born to be governor of Georgia? We saw his star in the Orient, and we came to honor him." This news put Governor Herod and all his cronies in a tizzy. So he called a meeting of the big time preachers and politicians, and asked if they had any idea where the Leader was to be born (Matthew 2:1-4).
A bit unusual, if not irreverent. But the truth is, in many ways the story told in the Cotton Patch Gospel is easier to grasp (whether accurate or not) than what we read in the ancient texts of the Bible. Even for those of us who grew up reading the Bible it is sometimes a struggle to understand the setting from some two thousand, three thousand, or four thousand years ago.

The Cultural Backgrounds Study Bible
The Cultural Backgrounds Study Bible provides study notes, articles, charts and maps alongside the respected text of the New King James Version, New International Version or New Revised Standard Version Bibles to help the bring the reader back to the original culture and context of the Scriptures. For Messianic and Hebrew Roots believers, this is a valuable reference work.
Please note that I am not reviewing these three translations or recommending one over the other. Get the Cultural Background Study Bible for its unique content, and choose your preferred Bible translation separately. This Bible is way too big to carry around.
The publisher, Zondervan, states it this way:
The Bible was originally written to an ancient people removed from us by thousands of years and thousands of miles. The Scriptures include subtle culturally based nuances, undertones, and references to ancient events, literature and customs that were intuitively understood by those who first heard the Scriptures read. For us to hear the Scriptures as they did, we need a window into their world.
The Old Testament section is edited by Dr. John H. Walton and the New Testament by Dr. Craig S. Keener, both well-known authors and experts. These bios are taken from the dust cover jacket of the hardbound edition:
JOHN H. WALTON (Ph.D., Hebrew Union College – Jewish Institute of Religion) is a professor of Old Testament at Wheaton College. Walton's research compares the culture and literature of the Bible with the ancient Near East. He has published dozens of books, articles, and translations.
CRAIG S. KEENER (Ph.D., Duke University) is F.M. and Ada Thompson Professor of New Testament at Asbury Theological Seminary. He is author of seventeen books, five of which have won awards in Christianity Today. His commentaries on various New Testament books focus on their ancient cultural setting.
Dr. Walton is the author of a series of books with titles beginning with "The Lost World of …" that explore the ancient Near-Eastern culture of the Old Testament, especially Genesis. Published by InterVarsity Press, they are:
The Lost World of Genesis One
The Lost World of Adam and Eve
The Lost World of The Flood
The Lost World of Scripture
The Lost World of The Israelite Conquest
The Lost World of The Torah, his most recent work, will be available February 26, 2019.
Walton has also published the Chronological and Background Charts of the Old Testament as well as several commentaries. Prior to being a professor at Wheaton College, Dr. Walton taught for 20 years at Moody Bible Institute in Chicago.
Dr. Keener is also a well-known author and speaker. Prior to teaching at Asbury Seminary, he was a professor of New Testament at Palmer Theological Seminary for 15 years, before which he was a professor at Hood Theological Seminary.
Many of the articles in the Cultural Backgrounds Study Bible are drawn from the Zondervan Illustrated Bible Backgrounds Commentary, the IVP Bible Backgrounds Commentary OT (Walton et. al.) and the IVP Bible Backgrounds Commentary NT (Keener et. al.).
Under the direction of these two men, there are more 30 other contributors listed on the Acknowledgments page. The notes and helps that make up this study Bible are not just the thoughts of one or two scholars; they are the combined efforts of a team.
Here are some of the interesting sections that are valuable to Messianic and Hebrew Roots readers:
Hebrew to English Translation Chart
This section takes more than fifty Hebrew words that the author says have no exact equivalent in English and explores their deeper and multi-faceted meanings in Hebrew. When we study it is good to compare different translations, because in going from one language to another often there is not just one English word that conveys the meaning of the original word as it is used. I pointed this out in my review of the ISR Scriptures, which tends to always translate some Hebrew words into the same English word no matter the context. In this chart with extended narrative, the Cultural Backgrounds Study Bible breaks the words down.
For example, one that might be familiar is the Hebrew word ירא (pronounced yaw-ray, Strong's Hebrew word H3372). This is often translated as "fear," yet most of us know that to "fear" God usually means to revere Him – usually, but not always. Not so clear, though, might be the words translated as good or evil, or the way the same Hebrew word meaning sin is also used for the sin offering. These are things we don't always see in English, and they are often clouded by concepts from our modern culture.
You might also be surprised at the Hebrew word satan. Even as I write this, my computer wants me to capitalize it (there are no capital letters in Hebrew). However, satan has many nuances in Scripture, and at one point even refers to the angel of the Lord blocking the way of Balaam (Numbers 22:22). There is a little more on this word later in this post.
One thing that I don't like is that these words are keyed to the Goodrick/Kohlenberger numbering system rather than Strong's. Although some call it a better system (Strong's is primarily based on KJV usage), nearly all of my other reference materials are keyed to Strong's and the consistency is important to me in study. It appears Zondervan holds the copyright on Goodrick/Kohlenberger, so there may be some business motivation here.
Ancient Texts Relating to the Old Testament
Here is a listing of "major representative examples of ancient near-eastern non-Biblical documents that provide parallels to or shed light on various Old Testament passages."  This is more of a chart and doesn't add much value for me. It identifies several ancient texts assumed to be from these ancient cultures, but doesn't tell what they say – which would be beyond the scope of this study Bible and add way too much to an already very thick book. It does give some idea of what to look for if someone wanted to pursue other studies.
Old Testament Chronology
This is a timeline typical of other Zondervan Study Bibles. In fact, this chart is identical to the one in my NIV Study Bible. It seems to pretty much follow Bishop Ussher's chronology, but only goes back to about 2500 BC (BCE). The timeline places the patriarchs of Genesis 12 (or the last part of Genesis 11) around 2250 BCE, and does not attempt to place dates on the tower of Babel, the great flood, the fall or the creation.
The Old Testament text comes after this timeline chart, with introductions to each section and interesting articles interspersed throughout the Bible text. Because the translations used in the Cultural Backgrounds Study Bible are respected mainstream Christian translations (NKJV, NIV, NRSV), the order of the books follows Christian tradition rather than the Hebrew Tanakh (Torah–Prophets–Writings). The verse numberings also follow Christian tradition.
Time Between the Testaments
Neither the NKJV, NIV nor this edition of the NRSV include the apocryphal/deuterocanonical books, so there is no Scriptural narrative of the Greek occupation, the Maccabean revolt or the Hasmonean Dynasty. From a historical perspective, it would seem important for the Cultural Backgrounds Study Bible to include something for this time period. This section has a map, brief overviews of history, literature, and social developments during this period, and a couple of timeline charts, but in general seems a little lacking. I would like to have seen at least the historical books of the Maccabees included, but I do not know the copyright issues that might be involved. Some editions of the NRSV contain the apocryphal books.
Key New Testament Terms
Before actually getting to the New Testament, there is a glossary-like section marked as Key New Testament Terms. Interestingly, many if not most of the terms or names listed don't actually appear in the New Testament text. They do, however, help to understand the setting of the New Testament, which is, of course, the purpose of the Cultural Background Study Bible.
In looking at this Bible, it is apparent that the study notes and articles were written by different people, and they don't always agree. Consider this regarding "satan," as I previously mentioned in the Hebrew-English Translation section:
"As a noun it can refer to either human or heavenly beings. Capitalizing the word is misleading since Hebrew has no capital letters and since the designation of this being typically uses the definite article, thus indicating that it is not a personal name. Furthermore, OT Israel had not yet developed a concept of "the devil" and the NT never indicates that any of these passages refers to the devil."
Here is the entry in Key New Testament Terms regarding this word:
"Initially a title ("the satan," i.e., "the adversary" in the Hebrew of Job), but functioning as a proper name for the devil in 2 Chronicles and Zechariah, as well as in Jewish sources in the NT period (although these also use other names; e.g., "Belial"). Both Biblical and early Jewish usage treated him as a literal evil spiritual personage, although his particular appearances throughout Scripture as such are debated. Developing OT themes, early Judaism viewed Satan as accuser (cf. Zech. 3:1-20), tempter (cf. 1 Chr. 21:1), and deceiver."
These are differing perspectives on how the contributors interpret the culture of the time, and of course none of us were there. Personally, I think that is great, though if you didn't realize they were different contributors it could be confusing. It is important to remember that these study notes (as in all study Bibles) are the thoughts of men and women, not Holy Spirit inspired Scripture.
New Testament Chronology
Again, this is typical of Zondervan Bibles and identical to my NIV Study Bible. It is very helpful.
Like the Old Testament, the New Testament text has helpful introductions, articles and study notes. While I have not read every study note, they appear to be much more historical and cultural rather than doctrinal. Messianic and Hebrew Roots believers will find this a refreshing change as well as extremely useful in understanding the context of what is being said.
The Bible text is followed by a chart of Money, Weights and Measures, an Index of Articles in both canonical and chronological order, an abridged concordance and selection of maps.
Comparison to the Archaeological Study Bible
Zondervan has also published the Archaeological Study Bible, offered only in the New International Version and no longer in print. I purchased one of these several years ago when they first came out. For me, this Bible was a disappointment.
It, too, is a very large book, so it isn't something that I would carry around. I'm not a huge fan of the NIV, especially for study, but I bought the Archaeological Study Bible for the notes and articles, not for the translation. With that said, I'm also not a fan of big Bibles with single-column small-print text, as this one has.
These two Bibles serve different purposes. The notes in the Archaeological Study Bible are, as the name suggests, geared more to discoveries and understanding in archaeology with a lot of reference to culture. There aren't as many notes, but there are more articles and charts. On the other hand, the Cultural Backgrounds Study Bible has fewer articles but more notes presented as you might expect in a study Bible – footnoted and referenced by verse number at the bottom of the page. Personally, I like that better.
Since archaeology and culture are so closely related, you would expect to see similar articles in both Bibles. And since they are both published by Zondervan, it isn't surprising that when I decided to compare articles and randomly selected one from Matthew, I found the exact same article word-for-word in both Bibles – Houses in the Holy Land of the First Century A.D.: Peter's House in Capernaum: Insulae. The only difference I saw was a cross-reference to a map in the Archaeological Study Bible that wasn't in the other one. But for me, the articles are secondary and I really like the notes. My preference is definitely the Cultural Backgrounds Study Bible. But I have both, so I guess that is moot.
Last year Crossway published the ESV Archaeology Study Bible. I have not yet had a chance to look at it, but I do like the English Standard Version. Again, I don't get these for the Bible translation.
Some Physical Characteristics to Consider
If you've decided to get a Cultural Backgrounds Study Bible, the next thing you'll have to decide is which one to get. I have a hardcover New King James Version, and when I describe something I see, you should keep in mind that I am looking at this one as I write. And again I will suggest that you should not choose based solely on the Bible translation. There are other differences.
Zondervan owns the copyright for the New International Version. Thomas Nelson owns the copyright for the New King James Version. Both Zondervan and Thomas Nelson are owned by Harper-Collins. The National Council of Churches USA holds the copyright for the New Revised Standard Version. It's not all business, but that can play a role in how things are offered and how much they cost.
The Cultural Backgrounds Study Bible – New Revised Standard Version is not yet available. It should be released March 12, 2019.
Physical sizes are listed differently across various sources. This standard hardcover Bible is about 6.5-inches X 9.5-inches and roughly 2.25-inches thick according to the publisher. My NKJV hardcover actually measures about 2.5-inches thick after being used for a while, and weighs in at 4-pounds 2.8-ounces on my postal scale. Like I said, it's a big Bible. More importantly, consider these differences as listed by the publisher:
New International Version – 2400 pages, 8.9-point Bible text
New International Version Personal Size – 2400 pages, 8-point Bible text
New International Version Large Print – 2400 pages, 10-point Bible text
New King James Version – 2496 pages, 8.9-point Bible text
New Revised Standard Version – 2464 pages, 10.4-point Bible text (pre-release information)
I will say that my NKJV is pretty comfortable to read. I wear trifocals.  The notes are in a smaller type than the Bible text.  For reference, a "point" is 1/72nd of an inch.  9-point type is 1/8th of an inch tall.
Concluding Thoughts
I heartily recommend the Cultural Backgrounds Study Bible for Messianic and Hebrew Roots believers. It doesn't really matter which Bible translation. If you don't have a translation that this comes in, then give that one a shot. You will find the historically and culturally based study notes helpful in your studies without undue influence from doctrinal bias. Besides helping you understand the setting in which you are reading, it will likely spur you on to further research.
Cultural Background Study Bible – New International Version
Buy from Amazon
Also available in a smaller Personal Size
Also available in Large Print
Buy from Christian Book Distributors
Also available in a smaller Personal Size
Also available in Large Print
Cultural Background Study Bible – New King James Version
Buy from Christian Book Distributors
Cultural Background Study Bible – New Revised Standard Version
Buy from Christian Book Distributors
---
1.  The Cotton Patch Gospel is a re-telling of the New Testament by Clarence Jordan. The story of his life is an interesting read. This is from Wikpedia:
Clarence Jordan (July 29, 1912 – October 29, 1969), a farmer and New Testament Greek scholar, was the founder of Koinonia Farm, a small but influential religious community in southwest Georgia and the author of the Cotton Patch paraphrase of the New Testament. He was also instrumental in the founding of Habitat for Humanity. His nephew, Hamilton Jordan, served as White House Chief of Staff during the Jimmy Carter administration.
The Cotton Patch Gospel was released in a series of small books, similar to the way Kenneth Taylor released the Living Gospels, Living Epistles and other smaller books before publishing the complete Living Bible. They were eventually combined into one complete volume that includes all New Testament books except Mark and Revelation. Former President Jimmy Carter, who is also a Baptist Sunday School teacher, wrote the introduction to the complete collection.
As mentioned, it is a bit irreverent but very effective in communicating the essence of the Bible story to his audience, who were generally the poor and uneducated. As you can see from the quote at the beginning of this post, he tells the story of Jesus as if he were in modern-day Georgia. When the young child's life is threatened, Joe Davidson (did you get that?), with his wife Mary and the child Jesus, "highball it to Mexico" until after the death of Herod.
Some of his renditions would make most of us uncomfortable. "Jordan converted all references to 'crucifixion' into references to 'lynching,' believing that no other term was adequate for conveying the sense of the event into a modern American idiom" (Wikipedia). He wrote so that his audience could understand:
So what are we advocating? "Let's wallow in sin, so more grace may pour forth"? Hell, no! (Romans 6:1).
So then, always remember that previously you Negroes, who sometimes are even called "n****rs" by thoughtless white church members, were at one time outside the Christian fellowship, denied your rights as fellow believers, and treated as though the gospel didn't apply to you, hopeless and God-forsaken in the eyes of the world. Now, however, because of Christ's supreme sacrifice, you who once were so segregated are warmly welcomed into the Christian fellowship (Ephesians 2:11).
I guess all I can say is, if it bothers you, don't read it.