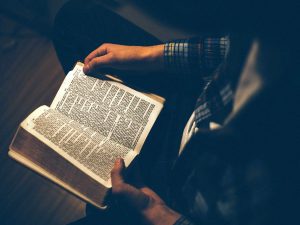 Many who are awakened to the truth about the Sabbath, the Biblical Feasts and following Torah find themselves feeling alone in their walk. Maybe a friend introduced you to this lifestyle and you can get together on the Sabbath. But what if you have nowhere to fellowship on Sabbath?
And every day, in the Temple and from house to house, they never stopped teaching and proclaiming Yeshua as the Messiah (Acts 5:42).
The early believers, who were mostly Jewish, went to the Temple or a synagogue with the other Jews. But after a while, the unbelieving Jews rejected the followers of Messiah, forcing them out. For a while, the believers met together in their homes as well as going to the public meetings, but eventually their gatherings were mostly in their homes.
Greet Prisca and Aquila, my fellow workers in Messiah Yeshua… Greet also the community that meets in their house (Romans 16:3-5).
Aquila and Prisca greet you warmly in the Lord, with the community that meets in their house (1Corinthians 16:19.
Greet the brothers and sisters in Laodicea, as well as Nympha and the community that meets in her house (Colossians 4:15).
To Apphia our sister, to Archippus our fellow soldier, and to the community that meets in your house (Philemon 1:2).
The Left Foot of Fellowship
In a similar way, many who come to an understanding of Torah while they are in a Christian church continue to worship and fellowship there. But all too often, fellow church members do not share the same joy and excitement about this discovery. After a while, the church rejects this newfound light and eventually most are forced to leave church fellowship. Just like the early believers, many meet in small home fellowships instead.
You may be blessed to find a Messianic home fellowship group in your community. If that is not the case, consider hosting a home fellowship yourself.
Have a Plan
When you meet together, know in advance what you are going to do. In many Messianic home fellowships, they read and discuss the weekly Torah Portion, including readings from the New Testament. There are a lot of resources available to help you lead a study. You don't have to preach or teach, just facilitate a study.
If you are uncomfortable leading a study, you may want to consider using DVD or CD teachings from respected Hebrew Roots teachers. Use discretion; there are a lot of fringe teachings out there, but you should be able to find teachers you can trust. Watch or listen to the teaching as a group, pausing when necessary to discuss what was said. Always stick with Scripture.
Several ministries now live stream their Sabbath services. You may find it helpful to start by just tuning in to a live or pre-recorded broadcast. Jacob's Tent in Cleveland, Tennessee streams a service every Sabbath at 11:00 EST.  You can find previous services or other congregations on YouTube.
Incorporate Worship
When you gather, don't just focus on teaching or study. Spend time worshiping God. During teaching and study, our God is giving something to us – understanding, direction, peace, and more. But during worship, we are giving something to our God. Don't be selfish and always receiving. Take time to give.
Use instruments or recorded music to sing praise to the Father. Or, just sing acapella. Be prepared ahead of time with printed words and, for those who can use it, chords or music. If you can play instruments, ask others to participate.
Consider incorporating liturgy in your worship time. Don't just run through it, but focus on what you are saying. Use Scripture; read it aloud together. You can find some traditional liturgy specifically for Messianic believers in a Siddur.  Go here for a Messianic Siddur.
Also be sure to include a time of prayer.
When he [Peter] realized this, he went to the house of Miriam, the mother of John (also called Mark), where many were assembled together and praying (Acts 12:12).
So confess your offenses to one another and pray for one another so that you may be healed. The effective prayer of a righteous person is very powerful (James 5:16).
Fellowship Meal – Oneg
Many home fellowships share a meal together on the Sabbath. Often it is referred to as the oneg, a Hebrew word meaning "delight."
If you turn back your foot from Shabbat, from doing your pleasure on My holy day, and call Shabbat a delight (Strong's H6027: exquisite delight, daintiness, delight, pleasantness), the holy day of Adonai honorable, If you honor it, not going your own ways, not seeking your own pleasure, nor speaking your usual speech, then You will delight yourself in Adonai, and I will let you ride over the heights of the earth, I will feed you with the heritage of your father Jacob." For the mouth of Adonai has spoken (Isaiah 58:13-14).
Be careful not to make the oneg fellowship meal a burden to anyone. Keep things simple, and choose food dishes that can be prepared the day before.  Use disposable table service to keep cleanup to a minimum.
Now Is the Time
You don't need to be an evangelist, pastor, teacher or any other similar calling to host a home fellowship. You just need a willing heart. Spend time in prayer before each meeting. Have a plan, create a safe environment and encourage participation. Trust God to bless your efforts.
If you have comments about your own experience hosting a home fellowship that might be edifying to others, feel free to leave a comment below.